Virginia and Gordon Palmer Jr. Trust
of the American Baptist Foundation Trust Grant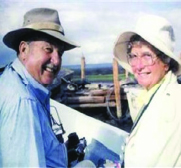 History
The Virginia and Gordon Palmer, Jr. Trust was created in 1999 as a permanent endowment to the American Baptist Foundation (ABF). The Trust is to be administered by ABF in accordance with established guidelines and principles.
2016 ABHMS Grant Cycle
The Virginia and Gordon Palmer Trust of the American Baptist Foundation (VGPTABF) is pleased to partner with American Baptist Home Mission Society for the 2016 grant cycle and seeks to fund special projects and programs of local congregations, regional ministries, colleges, universities, and institutions related to the American Baptist Churches. This cycle's them is: "Alternative Models for Developing Leadership for Mission and Ministry".

Grants are to be utilized for programs and projects unable to be funded through normal operating budgets. Grant awards will range from $5,000 to $25,000 and will be determined based on need and merit for projects and programs that expand and enhance American Baptist ministry and mission.

This Grant Application is now closed, please be on the lookout for future grant cycles.