Planned Giving

A Dream Fulfilled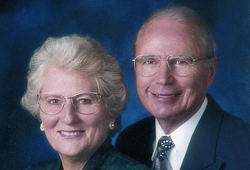 Harry and Dorothy Shaffer had an interest in ministry to young people since 1953. That's one of the reasons they purchased some real estate in Colorado in the 1970s. They thought that it might be used someday for youth work. But as the years passed, the distance from their home in Lincoln, Nebraska made that dream more and more impossible.
They had also surmised that the property could at least be a family meeting place for years to come, but as Dorothy explains, "We discovered that we weren't going there often, particularly as our children grew up and settled in various parts of the country. So, it couldn't even be a convenient place for family gatherings. And the two of us stopped going there since we chose to spend any free time we had visiting our children and grandchildren."
Dr. Harry Shaffer was a well-respected and much-loved pediatrician for half a century. Over the years, he also served on the Board of Deacons of the First Baptist Church of Lincoln. In retirement and until his death in 2000, he loved to call on those who had visited the church and encourage them to become active.
Dorothy has used her time and talent to serve Christ on the church's Mission Board and Christian Education Board. Being blessed with a spacious home that had a swimming pool, the Shaffers often hosted the church's youth and other groups from the church. So, it was only natural for them to consider in 1999 how the property in Colorado could be used productively for Christ since their initial dream was not fulfilled.
Through contact with the Rev. Fred Daugherty, Vice President of Field Services for the American Baptist Foundation, Harry and Dorothy learned of the benefits of a charitable remainder unitrust. They decided to establish such a trust by using their Colorado property. "The tax benefits appealed to my husband," Dorothy observes, "in addition to the fact that we both wanted the property to be used eventually for mission in some way."
Today, Dorothy appreciates the quarterly checks that she receives from the unitrust and says, "Eventually, what remains will fund mission everywhere and I feel good about that."The Shaffers had originally dreamed that their property in Colorado might someday be a place for ministry. Now, the monies from the sale of that real estate, which funded their unitrust, will support various American Baptist mission work – from as close as the region of the American Baptist Churches of Nebraska to as far away as across the nation and around the world!