Planned Giving

A Little Becomes a Lot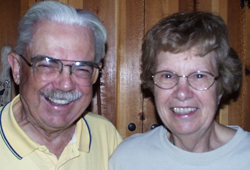 Many American Baptists know the Rev. Dr. Douglas W. Hill, former Executive Minister of the West Virginia Baptist Convention. He and his wife, Helen, are now retired in Ohio and spend part of their summers in Michigan. Many years ago, before they were married, Helen obtained some stock. She tells the story with a chuckle, "In 1951, I was driving my father's car to church and had to get some gas at a service station that had just been remodeled. They were having a grand opening, and I won a prize – either $75 or 5 shares of some Mobil Oil stock. My father suggested that I take the stock. Later, we purchased shares of another company using some money my father gave us. We bought ten shares of that one.
That was the extent of the Hills' stock investment experience. But in the years that followed, through stock splits and re-invested dividends, the five shares grew to more than 440 and the ten shares became more than 900! One of the companies even developed another company and 110 shares resulted from that "spin off." Helen recalls, "There were a number of times when my husband and I could have used the money by cashing in those stocks, but we lived within our means and never did. Decades later they had compounded so much that if we had cashed them in, there would have been a large payment in capital gains tax."
What did the Hills do? Helen explains, "We always wanted to give something to Parchment Valley, the West Virginia Baptist Conference Center at Ripley, where people learn of Christ, renew their spirits, and have some fun. And we had seen our American Baptist international mission work through four different mission tours in the 1980s and '90s – to the Congo, Japan, Thailand, Myanmar (which used to be called "Burma"), Brazil, Chile, and Bolivia. We were sold on American Baptist mission before those trips, but we developed an even deeper appreciation by seeing what we did. It was a life-changing experience."
Helen and Doug had learned about the American Baptist Foundation's services over the years and knew that they could use their appreciated stock to fund a charitable gift annuity (CGA). Doug explains, "The results of our CGA decision will help to fund ministry in West Virginia and around the world for years to come."
"It leads to a win-win situation," Helen adds, "since we receive a regular check from our annuity for the rest of our lives. And what remains will go to Parchment Valley and International Ministries. Although our eventual gifts may only be a 'drop in the bucket,' if there are enough drops from everyone, they can eventually amount to something!"
A little can become a lot – whether you think about stock in a company or investment in American Baptist ministry and mission. The Hills found that one way to invest in their futures and future outreach is through a CGA.