Planned Giving

A Pastor's Boy and a NYC Girl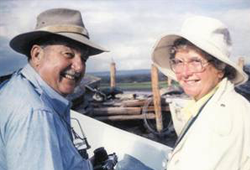 Most American Baptists come from humble beginnings. Mr. Gordon Palmer, Jr. was the son of a pastor in California, and Mrs. Virginia Palmer grew up in what she describes as "a very poor family" in Queens.
They met on the ski slopes of the Pocono Mountains in Pennsylvania when they were in their late 20's. Gordon's father had become the president of Eastern Baptist Theological Seminary(Recently renamed Palmer Seminary in honor of this longest-serving president.)
Gordon Jr was a graduate of the University of Pennsylvania (Penn) in Philadelphia, in electrical engineering. He joined three other Penn graduates to form Technitrol, an electronic components company.
Ginny graduated from Queens College on a full academic scholarship. She received her master's degree at Columbia University through a Queens College teaching fellowship. In their early married years, Ginny taught in the field of speech pathology and helped develop the speech and hearing clinic at Temple University, Philadelphia.
Because Technitrol was so successful, the Palmers decided to establish the Palmer Family Trust Endowment. Both were taught throughout their formative years to be generous and care for other people. As Ginny explains, "The motto of Queens College was, 'We learn that we may serve.' We have been fortunate to God for the opportunity to do what we have done."