Planned Giving

When 2 + 2 = God's Plan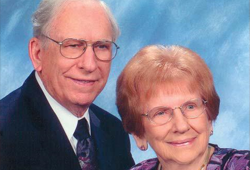 Have you ever looked back on your life and been filled with amazement when you recalled the opportunities God provided for you and the decisions you were led to make? That feeling of wonder describes the perspective of the Rev. John Wilson. When John was born on what would later become "income tax day" in 1918, Christians knew from Acts 18:3 that the Apostle Paul earned his living as a tent maker. But as John grew up and sought to answer God's call, he had no idea that he would become what is known today as a "bi-vocational minister," employed by the church and also having a non-church job. John also was not aware, as he began to seek a congregation to pastor in the early 1940s, that he would serve churches from two different denominations.
John's life is an illustration of what can happen when two types of employment are added to two different faith traditions. The result equals what can be seen as God's plan. John describes this "equation" by saying, "It was God who opened the doors of opportunity." John and his wife, Genette, met through a church in San Diego, California, where John was an associate pastor. Genette was working in that same city at an aircraft plant. They were married in 1943, during the height of World War II. John had applied to be a chaplain but the quota was filled for Baptists, so he looked for a church that needed a pastor.
When John came out of the Baptist headquarters in San Francisco, he was dejected. There were no open churches that would be suitable for a young family. Across the street from that building was the Presbyterian headquarters. The result of John's visit there was a Presbyterian yoked pastorate, where John served more than a decade. During that period, he and Genette were blessed with four children.
In the next years, as the family grew and needs increased, John continued in pastoral ministry for both Presbyterian and Baptist congregations. But at times he was also an elementary school teacher and an administrator of a convalescent and extended care facility. Soon after his retirement from bi-vocational ministry in 1983, John heard about the services of the American Baptist Foundation.
During 42 years of ministry, John and Genette had made some investments. When it came time to dispose of one piece of investment real estate, they turned to the Foundation. By placing the property in a charitable remainder unitrust where it was sold, they avoided capital gains tax. The trust now yields a steady income for them.
The Wilsons also separately created other unitrusts with the Foundation, in which they placed their life insurance policies. They planned that upon their deaths, the money from the policies would generate income for their children. However, when the life insurance company de-mutualized, suddenly there was stock in the trusts that paid dividends, thus providing some income now to the children. John recalls that when one of his children thanked him, he replied, "Don't thank me, thank the Lord and the American Baptist Foundation!"
After the income payments from the unitrusts are completed to John, Genette, and their children, the balances will be transferred into a permanent endowment managed by the Foundation. This has led John to say, "The return from what the Foundation has invested on our behalf provides us now with a comfortable income and gifts to our children. We have also gained a sense of peace, knowing that when we and our children are no longer on earth, our resources will ensure that the earthly ministries we care about will be supported."
For each of us who seeks what God wants, the equation of our lives may not include two plus two, but the result will still be God's plan. As you ponder your blessings, you will probably need confidential estate planning information. Please feel free to contact the Foundation through this website and find God's equation for your life.