Planned Giving

Rev. Dr. Wilbert Gough – A Fulfilling Partnership with ABF!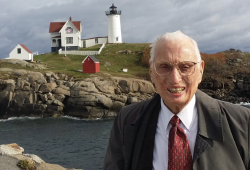 I became acquainted with American Baptist Foundation (ABF) through John Jacobs about 30 years ago. Over 77 years of ministry my wife Florence, we developed relationships with many ABCUSA ministries. We appreciate the quality education we received from our ABC related college and seminary which prepared us to serve the LORD in ministry these 77 years.
We have communicated with missionaries over the decades and wanted to support the life-changing work of International Ministries in our estate plan. When we met John Jacobs, the former Executive Director of ABF, we learned we could establish a Charitable Remainder Unitrust through the foundation and include all of the ministries we supported throughout our lifetime as beneficiaries. The trust investment has provided a secure retirement income and has performed well for us. ABF has done an excellent job and I highly recommend them.
Our Charitable Remainder Unitrust provides a more spiritual, simpler and easy way to provide retirement income, and do a lot of good for God's kingdom. It is a gratifying, successful way to fulfill our desire to support all the ministries that have been such an important part of our lives and show our appreciation for their service to God with one final gift.
In Christ,
Rev. Dr. Wilbert D. Gough