Planned Giving

Elizabeth "Betty" Nefzger – When Life Suddenly Changed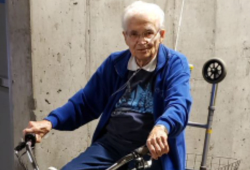 My husband was an American Baptist pastor serving in rural Montana for over 30 years. We were active in our region and many ABC ministries in our area, so we attended ABC Northwest Conferences, ABWM conferences and supported ministries serving Montana youth. We also enjoyed attending many ABC conferences, which gave us the opportunity to explore parts of the country such as Fort Worth, Texas and Portland, Oregon.
When my husband died suddenly in his 60s, things became complicated. We owned a small ranch, which we ran together, but it was too much of a challenge for me to run alone. Some big decisions needed to be made and the American Baptist Foundation provided assistance. By helping me look at our assets and determine the wisest way to handle our property etc., they helped me establish several charitable trust accounts which have provided me with an income all these years and the ability to continue supporting the ministries that were important to us and new ministries I learned about too.
At age 99, it has given me peace of mind through the years to know my various trusts established through American Baptist Foundation will continue to provide me with an income for life. Additionally, on my behalf the foundation will distribute final gifts to the ministries I care about deeply and it gives me joy to help them carry on with God's important work.
God Bless,
Betty Nefzger