Planned Giving

Charlotte Weaver – An American Baptist Woman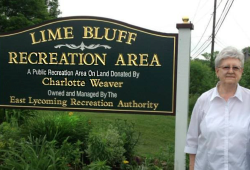 Charlotte is an American Baptist Woman, raised to be generous by her mother, Eunice and loves to tell the story of the apostle, Timothy, who gives credit for his ministry to his mother and grandmother.
Charlotte and Ralph Weaver began farming in 1951 on a 270 acre farm in Hughesville, Pa. Ralph passed away from a form of lung cancer in 1990. He and Charlotte had discussed their plans to sell the farm after Ralph's death and to give something back to the community and to the Lord's work.
Charlotte worked with the American Baptist Foundation and decided to do the following:
For the community, Charlotte would donate 70 choice acres next to the main road of Hughesville to be used for a much needed community park. The park would have a large pavilion, modern playground equipment and several ball fields for the community leagues to enjoy.(See attached pictures)
The remaining 200 acres would be sold and with the funds a Charitable Remainder Trust and several Charitable Gift Annuities would be structured to provide Charlotte with income for her entire life.
Charlotte used some of her income from the trust to do short term missionary work, traveling to many of our mission posts including Woody Island in Alaska, Morrow Indian Children's Home and several trips to Europe and Africa.
Upon her passing, Charlotte plans to use the remainder funds to set up the Charlotte Weaver Endowment and distribute gifts to several churches that she enjoyed membership during her life. She will also designate annual gifts to International Ministries, ABCOPAD Harvest Endowment Fund, and AB Women for ongoing ministry and missionary work.
Now in her eighties, Charlotte lives a simple life in a small apartment near her original farm. She enjoys seeing the children and community events at the park. She also contributes to the churches in her association and to mission work.